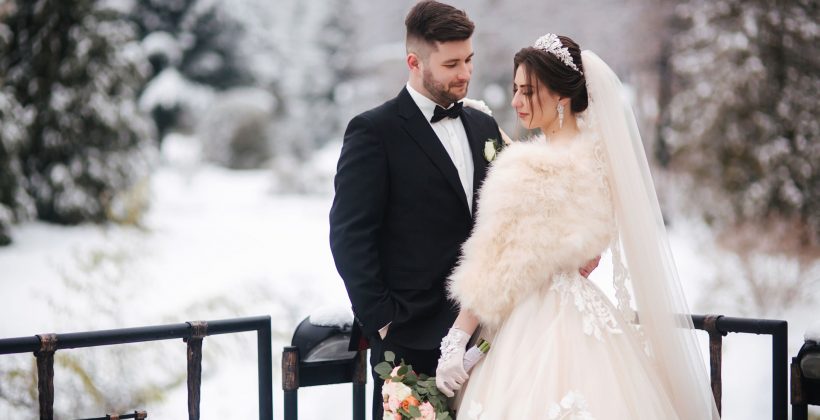 4 Tips for Memorable Christmas Weddings
By Misty Gray / November 11, 2023 / Christmas Weddings, Wedding / 0 Comments
Getting married is always an exciting occasion.
But when the wedding time falls around the Christmas season—well, that certainly calls for something a little bit extra special.
There are a lot of awesome reasons to consider planning a Christmas wedding.
And of course, as a groom-to-be, it'll be your job to help see to all of the important details—both in the planning phase and when it comes to deploying those plans to make them real.
But it's also understandable that planning a Christmas wedding is really an experience all its own.
There's really nothing quite like planning a Christmas wedding.
Why?
Because Christmas is already a very festive and specifically themed time of the year.
With that being said—there are some things that you can do to help yourself plan the best wedding ever.
Here are some of our favorite Christmas wedding tips to help provide you with some inspiration.
1. Decide If You're Going To Host A 'Christmas' Or 'Winter' Wedding
You can host winter weddings near Christmastime. And make no mistake—these weddings can be every bit as magical as actual Christmas-themed weddings. 
But here's the thing.
Sometimes, 'winter' themed weddings give you a bit more leeway to do stuff that may not specifically fit into a 'Christmas' wedding theme.
And sometimes, Christmas weddings can put your style options into a more typical holiday 'box.'
This can be a bit of an issue if you'd rather just flirt with Christmas elements without diving headfirst into trees, Santa, reindeer, presents, red and blue lights, etc.
In other words—think about whether you actually want to host a Christmas-themed wedding—or a winter-themed wedding with Christmas elements included in it.
This is actually a pretty important distinction to make.
And it really matters.
2. Decide If You Want To Stay Local, Or Travel For A Destination Wedding
Sometimes, traveling to popular, romantic, or beautiful holiday getaway locations can be the best way to experience a truly memorable Christmas wedding.
This is especially true if you don't plan to have a large ceremony or a particularly big wedding party.
Just keep in mind that if you plan a destination wedding around the Christmas season, not everyone will be able to make it.
People get busy at this time of the year. So if having everyone in attendance is important to you, you may want to consider sticking closer to home.
3. Give Friends And Family Plenty Of Advance Notice
Once again, the holiday season can be a particularly busy time of year for almost everyone.
Between Thanksgiving, Christmas, New Years, and several other very important holidays that also fall within this timespan—people tend to have full calendars and limited availability.
So make sure to send out those 'save the date' cards as early as possible.
Not sure when to send them? You'll probably want to jump on this in the late spring or mid-summer.
Then, the invitations can go out to give everyone more specific instructions at the beginning or in the middle of the fall (at the latest). 
4. Get Specific About A Theme
Along with specifying whether you're going to have a dedicated Christmas or winter wedding, you should probably also settle on a pretty specific theme to go along with it. 
For example—Christmas is a 'loose' theme. But you may want to get more specific about whether you're going to embrace a more 'minimalist' Christmas theme, a 'traditional' or 'old-fashioned' theme—or maybe even something a bit more exotic.
There are all kinds of ways to leverage more specific themes within the overarching Christmas theme as a whole to make your special day even more amazing. And there are even more ways to leverage more specific themes within the winter theme framework to do the same thing.
So sit down with your bride-to-be, and go over some Christmas/winter theme ideas to really get focused on the specifics of your wedding day, ceremony, decorations, etc.
Conclusion
Hopefully, this post has helped to give you some ideas and inspiration that you can utilize to make your Christmas wedding as memorable as possible.
And of course—don't forget the tuxedo.
Finding the perfect tuxedo to fit your theme is just part of the process.
When you're ready to get up-to-date measurements and order everything, feel free to call or come on by. 
We'd love to help you prepare for your big, amazing Christmas wedding celebration and ceremony.
Share this post, choose your Platform!