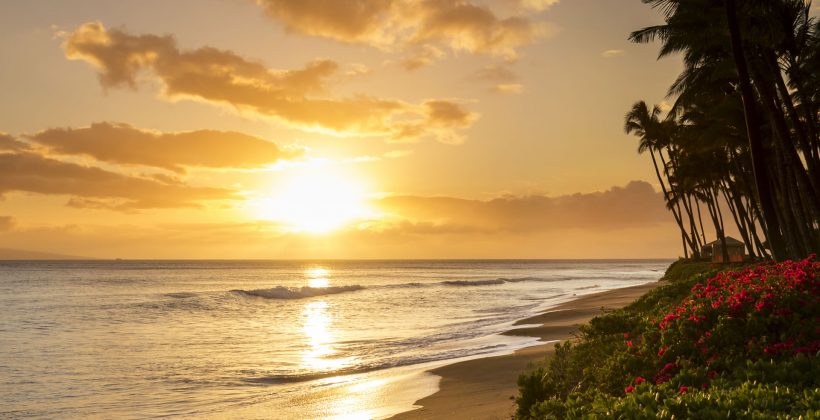 Destination Wedding Guide: Hawai'i, The Aloha State
By Misty Gray / February 11, 2023 / Hawai'i, Traveling / 0 Comments
Welcome to our series on destination weddings. This month: Hawai'i! Be sure to check out the companion piece over on our MK Bridal website.
If you and your bride-to-be have been looking into the possibility of a destination wedding, then you'd be truly missing out if you didn't at least take a close look at Hawaii as a possibility. The Aloha state has a lot more to offer for a destination wedding than you might imagine. Plus, it's far enough away from Springfield, MO to definitely qualify as 'exotic.' With that being said—there are more than a few things to consider as you ponder this location as a potential wedding destination. For one, it's a fair distance away—so planning in advance is crucial. Second, it's actually a surprisingly busy wedding venue state—so you'll need to make sure to start planning early in order to get everything done on time. (And that includes getting measured and ordering your tuxedo, sir.) So in this blog post, we're going to explore a few of the details you might want to look at when contemplating a possible trip to the Islands. Here's everything a groom should know about a destination wedding in Hawaii. 
Hawai'i As A Wedding Destination: An Overview
Hawaii (or to use its proper spelling, Hawai'i) is actually amazing as a wedding destination—especially considering that there are so many different types of settings to enjoy.
For example—you could hold your wedding in a modern-day venue, in a very 'traditional' ranch-type setting, on a beautiful beach during the sunset, or even in a garden amongst swaying palm trees and other botanical wonders.
There are a lot of options for destination weddings in Hawai'i.
In fact, just to give you a small sample of options, you could get married:
On the beach
In a botanical garden
In a beautiful indoor ceremony room
At a resort
At the top of a mountain
Beside a beautiful waterfall
All of your options are pretty amazing when it comes to Hawai'i.
Being A Groom In Hawai'i
Hawai'i is filled with fun stuff to do.
There'll be beaches to visit, fine dining to sample, adventures to embark on, and memories to be made.
As a groom, your job will be to take charge of the activities and festivities—not only for you and the wedding party but also for your bride-to-be.
You'll want to make the most of your stay, and you'll want to do that by doing some research and planning before you even arrive. You'll want to reserve your spot at the places you tend to visit, plan out tours and activities for each day, and just overall take charge of making the occasion as memorable as possible.
You can check out this page by TripAdvisor to figure out some of the best things to do while visiting the Islands.
Let's take a moment to discuss the most popular activity options.
Entertainment Options In Hawai'i (For You And Your Bride To Be)
There are a lot of fun and amazing things to do in Hawai'i. And as the groom, it'll be your job to plan out the most amazing wedding getaway for everyone.
Here are just a few ideas to get you started.
Snorkeling
Nature and wildlife tours
Bus tours
Whale watching tours
Park hiking
4WD tours
Eco tours
Plantation tours
Special events
Helicopter tours
Hulu shows
The Volcanoes National Park Safari
Ziplining
You'll also want to visit some of the most popular cities in Hawai'i.
Some of the best options include:
Honolulu
Kailua-Kona
Lahaina
Hilo
Hawai'i Travel Preparation Tips
Obviously, you'll need to get your wardrobe in order.
And this will start with getting fitted for the perfect tuxedo for the occasion.
Stop in at Karl's Tuxedo and let us help you with this part. And make sure that you start the process sooner rather than later.
You don't want to run late getting your tux for such an important event.
Now, aside from the tuxedo, there are also some other clothing items that you should make sure to bring with you on your trip.
Some of these include items like:
T-shirts
Polo shirts
Shorts
Some long pants
A lightweight jacket
Some formal attire for special occasions
A pair of hiking shoes
Flip flops
Sneakers
Water shoes
Conclusion
There you have it.
Everything you need to know about preparing for a destination wedding in Hawai'i as a groom.
Equipped with this information, you're now ready to make preparations and embark on your trip.
Hey—destination weddings aren't for everyone.
But if you're seriously looking into this idea—you should really consider taking action to make it happen.
Because Hawai'i is truly a beautiful place to get married.
Share this post, choose your Platform!